Back to Hall of Fame
Dan Glimne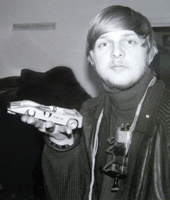 Dan in 1968.
Photo: Berra Ljungdahl Dan was an active racer, but it was his talent as a writer for the magazine Allt om Hobby between 1965 and 1971 that came to be his most important roll. With his enthusiastic and technically well-informed articles and reports he got a whole generation of young Swedish guys to plug in their controllers. In 1968 he wrote the Swedish slotracing bible "How to drive miniracing" together with Per Husberg.

Dan's epic series "Motor tuning" won international attention and was published as an appendix to the English magazine Model Cars. He was also a big fan of American Pro Racing, which he expressed in the poem "Cukras at the track", published in the American magazine Car Model in April 1970.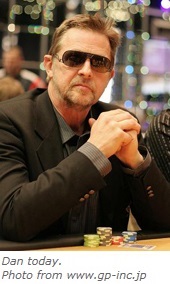 Dan's biggest success on the track was without even having to hold the controller himself. His car won the 1/32 Sports Car class in the Drag racing World Championship, that was raced as a PROXY race in the USA in 1966.

In July 1970 Dan entered the Pro class in Seattle's NCC race and thus probably became the first Swedish resident racer to participate in an American race.
(Though one of America's most famous racers, Swedish John 'Tore' Andersson, lived and raced in the USA since mid 60'.)

After his slot racing career Dan continued as writer, game inventor and nowadays as poker expert.