This is a site about the history of Swedish slotracing.
A presentation of Swedish tracks of today and from the past.
A presentation of Swedish slotracing personalities and innovators that have meant a lot to the sport.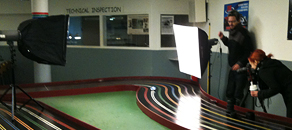 Cheetah photo session at the track.
We have also tried to gather as many results as possible from races in the past. Mainly the results from all the World Championships and all the European Championships. And of course all the big Swedish international races.
Many thanks to our daughter
Malin
for designing the site.
Enjoy!
Mia & Janne
---
This site is published by Mia & Janne Ekman in Sweden.
If you want to contact us, please send a mail to:
mail@slotracing.se
You can find more information about Swedish slotracing on the website of
Sveslot
(the Swedish Slotracing Association).
There you will also find the
Swedish race calendar
.